7 Issues to Consider in High Net Worth Divorce Cases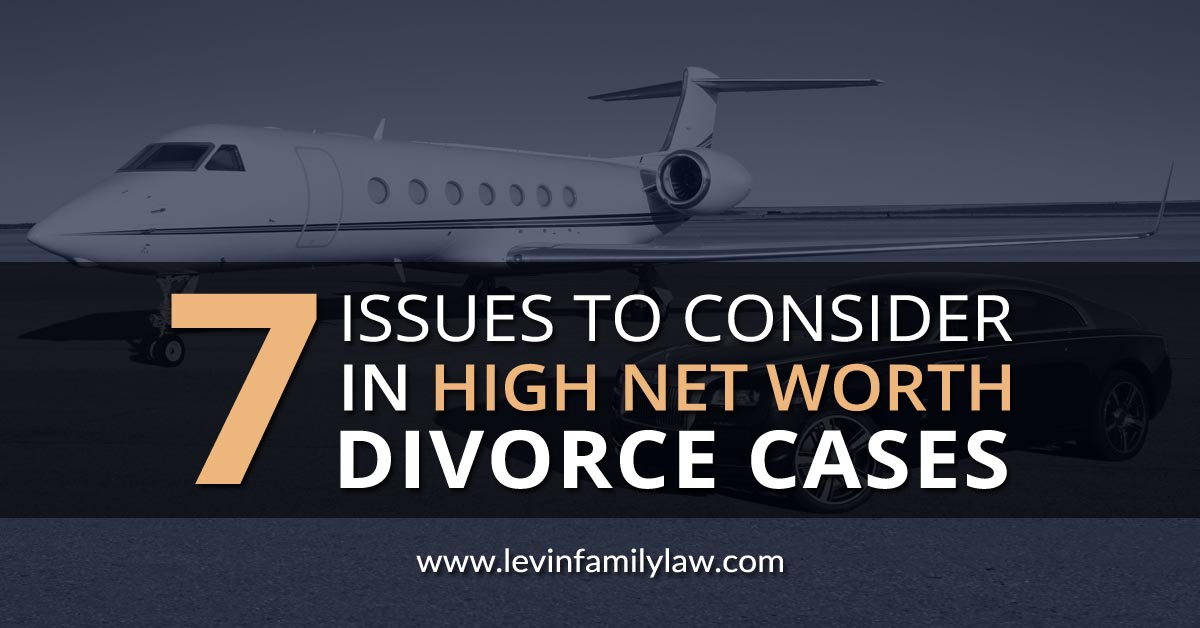 The term "high net worth" or "high asset" generally refers to an individual or couple with substantial financial assets. High asset divorce cases are often more contentious and complex. In most high profile divorce cases the parties wish to maintain as much privacy as possible, especially in high conflict, celebrity cases.
Property division can be one of the most contested issues in any divorce cases. However, when divorcing individuals have a high net worth or a substantial marital estate, the division of property can become complicated and contentious, with vigorous disputes arising frequently.
High-profile, high net worth and celebrity clients have unique concerns when it comes to divorce and other contested disputes.
When the financial stakes are high, the legal issues tend to be significantly more complex.
Some unique considerations for these individuals include:
Identification of Assets

It can be difficult in high net worth cases to identify assets. There may be some assets that were owned prior to the marriage that may be considered separate. However, some of these assets may still be affected by the divorce because the amount of appreciation of these assets may be considered marital property. For high-net-worth individuals, the divorce process can be even more difficult because there is so much is at stake. From child custody to spousal support to division of assets to debt obligations to retirement accounts to business valuations – a single bad decision can affect a wealthy spouse for years to come.

Complex Asset Issues

Unlike a typical divorce, high value cases involving substantial financial assets require a special skill set and level of experience. It's not uncommon for these high net worth individuals to have marital estates that include real estate holdings, business interests, complex trusts, investments, retirement accounts and international assets. The addition of these types of assets can severely complicate divorce proceedings involving individuals with high net worth, making an equitable division of marital assets challenging.

Consider Tax Consequences

When you get a divorce, you must realize that some of the associated financial transactions will have tax consequences. These tax considerations may relate to business entities, benefit plans, real estate and spousal support. An experienced high net worth divorce lawyer can help explain these issues.

Spousal Support Considerations

In a high-asset or high net worth divorce cases, involving individuals with substantial marital assets, it is critical to discover, present and define the reasonable needs of the dependent spouse. Spousal support and maintenance (alimony) are extremely important issues, especially when the financial stakes are high. Typically, divorce cases involving high net worth individuals are multi-faceted and consist of more complex variables than standard divorce cases. These cases typically require sophisticated lawyering to produce a successful outcome.

Forensic Asset Investigation

The road leading to divorce is often long and rocky and the spouse with the higher income may attempt to hide, transfer or defer income or assets in advance of the decision to divorce. Detecting hidden, transferred or deferred income can be complicated; however forensic accountants have several effective techniques for uncovering such income. Engaging the services of a variety of well-respected industry experts can be extremely beneficial in a high asset divorce case. Forensic accountants can help uncover hidden assets, business evaluators can assess commercial holdings and vocational experts can help determine whether support should be awarded to a non-working spouse.

Publicity

One of the unique issues facing wealthy individuals, high profile clients and celebrities is the fact that their divorce may be more public than a typical divorce case. Celebrities, entertainers, prominent business owners, social elites and other well-known members of the community can be considered public figures that are regularly reported on and their marital issues may soon become the target of journalists. An award-winning divorce lawyer with years of experience representing high profile and celebrity clients can discuss what strategies may be implemented to minimize unwanted attention and to protect their privacy.

Length of Proceedings

Due to potential complexities of the assets involved in high net worth divorce cases, the proceedings tend to take much longer than a typical divorce case. Identifying, evaluating and investigating assets to determine their value can take a good deal of time. Additionally, it must be determined whether certain assets are considered marital property. Determining which assets should go to which spouse can also be a challenge. All of these considerations can lead to long, drawn-out court battles. Because of this, there may be a need for temporary orders related to spousal support, payment of legal fees and matters related to child custody while the divorce is pending. It is not unusual for divorce cases involving high net-worth couples to last many months or even years.
Conclusion
For divorce cases that involve substantial assets, large estates, complex business valuations or other "High Net Worth" holdings, it is extremely important that you retain the services of a divorce attorney that has extensive experience with high net worth or high asset divorce cases. High profile, high stakes divorce cases require special skills and can require complex discovery, investigation, appraisals and valuations for everything from real estate to intellectual property to family heirloom jewelry and art collections. Because of these factors, high net worth divorce cases are oftentimes fiercely contested and can be much more complex to litigate.
If you are on the brink of divorce, consult a Chicago attorney that has experience in high profile, high stakes and high net divorce ahead of time, even before you discuss it with your spouse. At Levin & Associates, we can advise you of your rights and responsibilities and possible outcomes. We can help navigate you through the legal complexities so you can make sound decisions and look forward to a financially secure future.